Product Detail
Home appliance Powder Coatings
We research and develop powder coatings specially for home appliances, to meet relevant different requirements by users, such as durability, anti-corrosion, water resistant, thermostability, anti-scratching, anti graffiti, anti-virus, etc.
Besides meeting above requirements, we can also adjust different colors, textures, glosses, to promote the surface of home appliances more attractive to customers.
Confine of application:
• refrigerator/refrigeration facilities: Our coatings are of excellent anti-scratching, anti-contamination, anti-virus, anti-corrosion, and easy cleaning properties, To protect refrigerator in complicated environments, avoiding damages.
• kitchenware: For stoves, ovens, pots and other kitchenware, the coatings applied should be super durable and thermo-stable with great anti-yellowing ability, and endure temperature above 450℃ to protect kitchenware.
• Washing equipment: Washing machines and facilities are settled in a hot and humid environment, our powder coatings can protect with anti-corrosion properties, meanwhile to create a beautiful surface to the machines and equipment.
• Ventilation equipment: Air conditioners, heat radiators, air exchange equipment will be used for many years. Our powder coatings can be applied to these machines and equipment with anti-yellowing properties, avoiding rusting.
Surface texture:
• We offer different kinds of color, gloss and surface textures.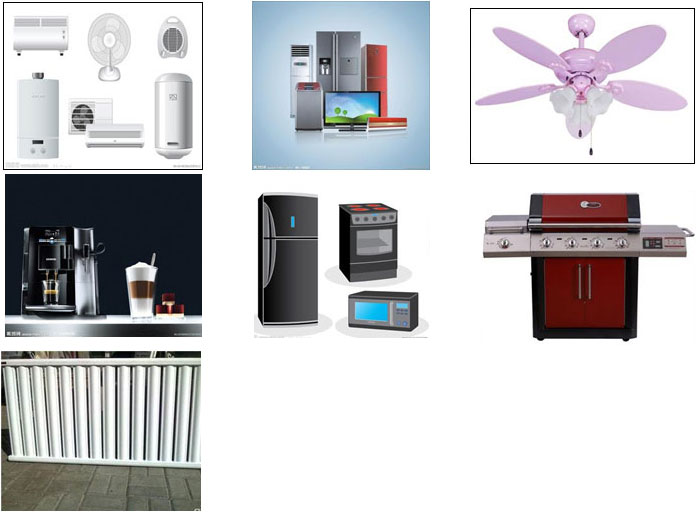 Home appliance powder coatings

Physical

properties

Gravity

1.0-1.8, up to color and gloss




Grit size

100% smaller than 100μm, special requirement should be informed




Mobility

120-140




Properties of

Coating layer

Item

Criteria

Result




Gloss 60°




GB/T9754-88

1° to 95°+




Impact test

ISO6272

GB/T1723-1993

35cm/kg




Cupping test

ISO1520

GB/T9753-1988

5mm




Adhesion

ISO2409

GB/T 9286-1998

Grade 2




Bending test

ISO1519

GB/T 6742-1986

4mm




Pencil hardness

ASTMD3363

GB/T 6739-1996

5H




Heat resistance

GB1735-79

450℃/long time, 450℃/short

time, no cracking, no bulb, slight color change




Attention:

1. Above parameters are gained from oil-free, rust removal cold rolling steel board of thickness of 0.8

mm, under experimental circumstances, with coating layer thickness of 70μm;

2. The property data may drop down a little upon gloss reduction.




Application

conditions:

Consolidation

conditions

Standard

230℃(work piece temperature) 30min




Pre-treating




Pre-treating methods differs from different substrates( phosphating process,

sand blasting, shot treatment)




Spraying

Corona electrostatic spraying ; frictional electrostatic spraying ; static electricity spraying fluidized bed (user must propose requirement); Fluidized bed hot – dip

coating (user must propose requirement ); for other spraying method (user must propose requirement ahead)




Theoretical

coverage

9-12m2/kg, coating layer thickness 60um, up to types and colors




Application confine

Indoor




other

Packaging and

transportation




20Kg/Carton, with polyethylene bag, Non-dangerous articles, transportation

friendly. Avoiding straight sunlight, humidity, heat, and contact with chemical

substances;




Storing

Stored indoors at 40℃, ventilated, dry, clean warehouse, avoiding fire source,

heat radiators, straight sunlight, opening to the air. Warranty period: 6 months.

To be used after checking if expired. Unfinished bags should be sealed after

opening.




Hygiene and

security

Container or bags should be sealed after working. Keep away from fire source. Avoiding intake of powder. Catering and smoking are forbidden in relevant

warehouse. Labor should wear anti-static shoes, keep grounding.
Attentions: We do not recommend use of bright color series such as yellow, orange, red, or metallic color series. For details, please contact Guangzhou Yinda Powder Coatings Co., Ltd. In order to protect metal parts, pre-treating must be done in good quality before coating. For details, please contact supplier of pre-treating chemicals.